Change Your Mind // You Have the Power to Control Your Thoughts
Thursday Tidbits with Yours Truly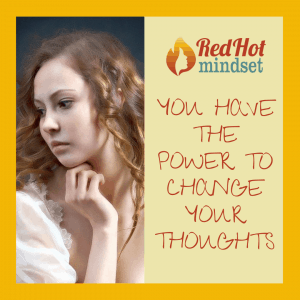 TUNE IN: Apple | Spotify | Stitcher | Castbox | Google Play | Amazon
Links Mentioned in Episode
Listen to the full episode to go in-depth with these Thursday Tidbits:
Tip 1:

Control Your Thoughts. Think of mental discipline like having a bouncer at the door of your mind.

Tip 2:

Choose Your Focus. God gave us the ability to choose what we focus on. 

Tip 3:

Renew Your Mind. What goes into our minds is important because we can't unsee or unhear things.
Transcript
Hi friend! Welcome to Red Hot Mindset. I'm thankful you're tuning in, and today is important! We're talking about your thoughts. Did you know that we have the power to control our thoughts? We can change our minds! It's not easy, and it takes work – daily work – but it's possible, rewarding, and worth it.
Our minds are like computers. We need to program them because they calibrate our expectations, and our expectations calibrate how effective or successful we will be at putting in the work to make things happen. 
In the computer world, the acronym GIGO stands for "garbage in, garbage out," and just as a programmer uses that to filter systems, we need to filter our minds. We bring a thought in, decipher if it is positive or negative, and the negative ones have to go, they're garbage. GIGO can also stand for "good in, good out." If our brain is like a computer, it will produce exactly what we program it to, whether it's good or garbage.
A computer is only as good as the data you give it. The mind is only as good as the thoughts you allow it to keep. What we put in is what will come out. Our minds will perform to the expectations we set. We need to be able to speak our vision over ourselves. When we program our minds right, it raises the level to which we can perform and creates a better us. What we put in is what will come out. Pretty common sense, right? It's important to program in our minds what is good and positive. It's easy to say, but it's not always easy to execute.
This process is a daily occurrence, really a moment-by-moment journey because we take in 1000s of thoughts every day, and our mind has to manually accept or reject each one. Accept – decline – accept – decline – accept – decline. So much clutter to get through! But isn't it good news that you can change your mind! You do have the power to control your thoughts. God has given us the tools and resources we need to dwell on what is pure, right, and true.
We can control our thoughts. We can choose what we focus on, and we can renew our minds. Here are a few thoughts specific for this topic today:
1. Control Your Thoughts.
Sometimes it seems impossible to control every thought that comes in. Think of mental discipline like having a bouncer at the door of your mind. Bouncers are paid to ensure only the right people get into the specific event taking place. They're usually tough and scary looking to make us think twice about entering, but their role is to let the right people in, and keep the wrong people out. A bouncer at the door of your mind keeps the right thoughts in and turns away the wrong ones.
2 Corinthians 10:4-5 says, "We demolish arguments and every pretension that sets itself up against the knowledge of God, and we take captive every thought to make it obedient to Christ."
Don't accept every thought just because it happens in your head! God says to take each thought and give it a thorough examination. Is it good or bad, right or wrong, positive or negative? Capture the ones that are right and throw away the junk.
The Greek word used for captive in this passage is aichmalotizo (aheekh-mal-o-tid-zo), which means to "metaphorically capture one's mind or to bring something into captivity." You are literally captivating your own thoughts.
We make every thought obedient to Christ, the passage says. The Greek word used for obedience here is hupakoe (hoop-ak-o-ay), which means "attentive hearkening," or to carefully listen to what you are hearing and submitting it to Christ. Is what you hear or think obedient to what God wants you thinking?
The first step is to have that bouncer at the door of your mind and to listen to and capture each thought so you can decide what to do with it. Once it goes in, it's hard to get rid of. Work every day to be conscious of the thoughts trying to enter your brain, and like a good bouncer, decipher what is good and bad, and filter out the ones that don't belong.
2. Choose Your Focus.
God gave us the ability to choose what we focus on. Will it be on anxiety, worry, and fear, or will we focus on what is lovely, pure, and right?
Philippians 4:8 says, "Whatever is true, whatever is noble, whatever is right, whatever is pure, whatever is lovely, whatever is admirable – if anything is excellent or praiseworthy – think about such things."
Here is the test: You send every thought through like a computer gathering information. All your friends are talking about a movie and how amazing it is with a thrilling plot, scandalous scenes, and it keeps you guessing the whole way through. But it's rated R. The question is, should you watch it? Okay, test it!
From what you've heard or know of the movie:
Is it true?

Is it noble?

Is it right?

Is it pure?

Is it lovely?

Is it admirable?

Is it excellent?

Is it praiseworthy?

If you answered no to most of those questions, it's probably better to forgo the movie. Will you feel like you're missing out? Maybe, but our minds are powerful, and we can't unsee or unhear things once it's in our minds. It's not easy to just get those thoughts back out, and it can consume your mind for days after. 
When I was a new mom, my oldest son was around 9 months, I went with my mom to a movie called Changling with Angelina Jolie. You may have heard of it, you may have seen it, you may have not. When I saw previews for it, I thought I was going to be watching a suspense movie about political corruption, female disempowerment, and mistreatment of mental health patients in the early 1900s, but what I didn't know is that it also was about child endangerment and a serial killer. 
Most of the movie depicted the murders of young boys rather than revealing the corruption at the governmental level. And, to top it off, this movie was based on a true story, live events that actually took place in the early 1900s! I love movies based on true stories, but not ones like this!
I'm telling you, when I left the theater that day, I was petrified. As a new mom, I never wanted to leave my little baby out of sight. I wish I could say only for months, but literally for years I had nightmares about what I saw, and I told moms never to go see that movie (I still do, so if you haven't seen it, stay away from it). The movie itself was definitely suspenseful, had great acting, and a thrilling plot, but it was not something I probably needed to subject myself to. We just can't unsee things! 
The second step is to choose what you focus on. You can use the Philippians 4:8 "test" for any thought coming in or to gauge if you should or shouldn't watch or do something. Is it true, is it noble, is it right, is it pure, is it lovely, is it admirable, is it excellent, is it praiseworthy? For me, Changeling was true (based on a true story),  and it probably was right, a near-accurate depiction of the events that happened. You could even say it was probably admirable, as the main character played by Angelina Jolie fought for change in the governmental systems, but it definitely wasn't pure, lovely or praiseworthy, and it affected my mind for bad more than for good. This Philippians 4:8 test is a formula for keeping your mind right. Use it when you are unsure if a thought should stay or go or if you should or shouldn't participate in or watch something.
3. Renew Your Mind
What goes into our mind is important, and we can't unsee or unhear things, but isn't God good that he gives us the ability to renew our minds?!
Romans 12:2 says, "Do not conform any longer to the pattern of this world, but be transformed by the renewing of your mind. Then you will be able to test and approve what God's will is his good, pleasing, and perfect will."
Renew means to "resume after an interruption, to give strength to; to revive; to replace."
The word in Greek used for renew in this verse is anakainosis (an-ak-ah-ee-no-sis), which means a "renewal, renovation, or complete change for the better."
God commanded us to renew our minds, and that is how he transforms us. In the renewing we will be able to see what God's will is for our lives. We step into the fire of refinement and are renewed through Christ!
One of my favorite channels is HGTV. We don't have cable, so it's my treat when we stay in a hotel. Thankfully, my family likes it too, but what makes these renovation shows like Fixer Upper and Love it or List it so appealing?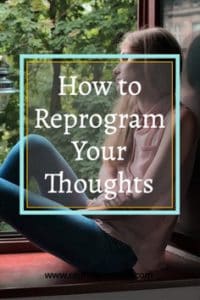 To me, it's not the middle. Sometimes the shows seem too long, but it's the beginning and the end that I'm enamored by. I love seeing how terrible the house looks in the beginning. The dirt, the filth, sometimes the live animals they find living in there! I remember watching Good Bones one day, and there was literally a live snake living in a box in there! Ewe! My worst nightmare!! Oh my goodness, it was horrifying! Yuck, yuck, yuck! 
My boys tried keeping a snake in a cage in the garage one time, and when I found out (my youngest snitched), oh, I was furious! It's the one thing I told my husband before we got married that would drive me out the door. You think I'm kidding, but I'm truly serious. I hate snakes. Probably because my brothers used to catch them and put them in my face. Or maybe it's because I found one in our basement once, and to me it felt like a huge Boa, even though it was a small gartner … but gross! Not sure why I went on that tangent, but apparently, I wanted you to know that I loathe snakes!
So I love the beginning of the shows where they reveal the worst of the worst houses, and then I love seeing the end result. I love that Joanna Gaines has a vision and can see how to take this dilapidated house and turn it into something beautiful. 
I love seeing the before and after! But the hard work is in the middle – the part I don't like so much – the process of tearing down walls, cleaning, rebuilding, painting, and decorating (well, I like the decorating).
The journey of renewing our mind is quite similar to the process of renovating an old house. Sometimes they find a treasure in the house that they think is so cool, and they figure out a way to incorporate it into the new structure. We keep the good in our minds, but we tear down the rest and rebuild to ensure our thoughts are obedient to Christ and pure and lovely in nature. You don't just renew your mind once. It's a daily thing! We're flooded with thousands of thoughts a day, so it's crucial that we take the time to renew our mind, see if there is anything we need to take captive and submit to God.
David's heart cry to God was to search him and help him see if there's anything he needed to change or renew. 
David says in Psalm 139: 23-24, "Search me, oh God, and know my heart; test me and know my anxious thoughts. See if there is any offensive way in me, and lead me in the way everlasting."
We renew our minds by getting alone with God in prayer and asking him to search our hearts and thoughts and to reveal if there is anything we haven't taken captive yet. And if we do this, God will renovate our hearts and change us forever. I love the Greek word anakainosis (an-ak-ah-ee-no-sis), a complete change for the better. That's what God wants to do in us! He wants to refine us and make us new!
But we have to first do the work and discipline our minds.
Choose your thoughts – choose what you let in carefully. Choose to focus on what is lovely and true, and renew your mind daily. These are keys to hearing God's good and pleasing will for your life, and as you renew your mind, he will continue to lead you and show you the path.
That's what stepping into the fire is all about. It's about renewing your mind and transforming it to what God wants and listening for his good and pleasing will. Allow him to mold and shape you and refine you. Enjoy the process in the middle because the renovation is always worth it, and the best part is looking back and seeing just how far you've come.
I want to leave you today with a prayer of scripture:
"Search me, O God, and know my heart; test me and know my anxious thoughts. See if there is any offensive way in me, and lead me in the way everlasting."
Help me to take each thought captive and make them obedient to you.
Help me dwell on what is true, noble, right, pure, lovely, admirable, or excellent.
Help me be okay not conforming to the pattern of the world but rather to be transformed by the renewing of my mind.
Help me to see your good, pleasing, and perfect will for my life.
Amen
I hope you have been blessed today as we chatted, and I also hope you will take these three things and learn to control that precious mind God gave you! Until next time, I pray, you just run YOUR race! I believe in you!
Subscribe and Review in iTunes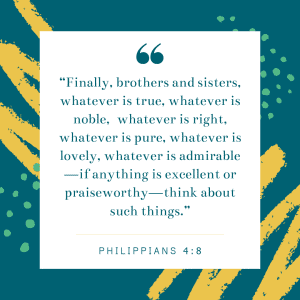 If you're not already subscribed to the Red Hot Mindset Podcast, I encourage you to do that today to ensure you don't miss an episode. Let's step into the fire and come out stronger! Click here to subscribe in iTunes. You can also subscribe on Spotify | Stitcher | Castbox | Google Play | Amazon.
If you resonated with this last episode, please leave a review on iTunes. Reviews help others find my podcast and add it to their own library. Be sure to tune in because I may even feature your review on an upcoming episode! I appreciate you taking the extra time to share your thoughts.
Click here to share your review:
Click "Listen on Apple"
Select "Ratings and Reviews"
Select "Write a Review"
Share what your favorite things are about the podcast!
Step into the fire and come out stronger!
If you want to stay at the forefront with me, sign up for my newsletter where I bring mindset, goal-setting strategies, and encouragement directly to your inbox, and you will be in the know for future podcast episodes!