Taking Time to Rest // Slowing Down to Speed Up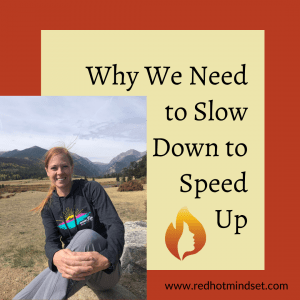 TUNE IN: Apple | Spotify | Stitcher | Castbox | Google Play | Amazon
Links Mentioned in Episode
Subscribe and Review in iTunes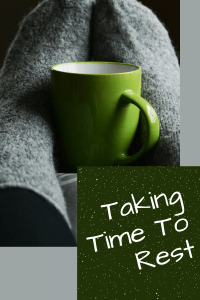 If you're not already subscribed to the Red Hot Mindset Podcast, I encourage you to do that today to ensure you don't miss an episode. Let's step into the fire and come out stronger! Click here to subscribe in iTunes. You can also subscribe on Spotify | Stitcher | Castbox | Google Play | Amazon.
If you resonated with this last episode, please leave a review on iTunes. Reviews help others find my podcast and add it to their own library. Be sure to tune in because I may even feature your review on an upcoming episode! I appreciate you taking the extra time to share your thoughts.
Click here to share your review:
Click "Listen on Apple"
Select "Ratings and Reviews"
Select "Write a Review"
Share what your favorite things are about the podcast!
Transcript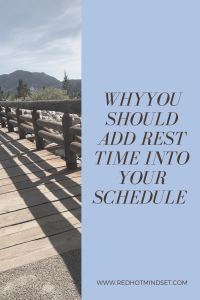 Taking Time to Rest // Slowing Down to Speed Up
Hey friend! I hope you are having a wonderful beginning to your week. Are you taking time to rest and relax, or are you stuck in a hustle right now? If you're in the midst of busy, I can relate, because I've been there too! 
My entire life I've been in too much of a hurry. The last couple of years have been teaching me that it's time to slow down and focus on what is most important. I had to do a full-out evaluation of the activities and roles I was putting my time into and evaluating if they were where I needed to be. The short answer is most of them were not and that someone else could do them as well or even better than I could, so it was time to let go and let God work in my life!
To put it frankly, I've learned to slow down and smell the roses. Actually, I just take whiffs of the mountain air! So I wanted to let you know that I'm taking the rest of December off from publishing podcast episodes to have a little downtime to rest, partly because we'll be going back to Minnesota for an extended time and partly because I want to ensure time to reflect and seek God in where He wants to take me next.
It's important to take down time in order to refresh and refuel and get ready to go again.
God rested on the seventh day of creation, and if He decided a rest day was important, then maybe we should think about that and why it may matter to us. 
Do you find time to rest? Can you tell the warning signs when you're beginning to feel burnout? And maybe the most important question is, do you listen to them?
Since we moved to Colorado, we've made it a habit to take a rest day on Sundays. I call it our Sabbath, but honestly, every day is a Sabbath because as Christians we find our rest in God. I don't want to be ritualistic or rule-based, but I do think a day as a family is healthy. 
We take time away from our electronics unless we're watching a family movie or playing a game together (just a little plug, we love playing Wheel of Fortune on the Wii … it's about the only video game I play), we go to church most Sundays, and we try to get in some good quality family time. When it's nice outside we'll go play tennis or take a family walk or a hike. We'll play board games together, or sometimes we'll spend time with another family, but the goal with our Sundays is to focus in on what's important and to gear up for the week ahead. 
The other thing we've incorporated into our Sunday evenings that I love is our family meeting.
We go around and share something we really enjoyed from the week and also something that we may not have enjoyed as much. It's a time for the boys to let us know how things are going for them and to feel like they get to contribute their thoughts into what decisions we make. Then we'll go over our calendar for the week in case there's anything they need to be aware of, anything that may be different than normal. This has been a special time for us, and I really hope we are able to keep it up. It doesn't take long, but it's valuable.
Like I said, we don't do a traditional Sabbath (because, honestly, that would be really hard to follow) and it would become ritualistic in nature. That's not what we're trying to do. We are not under the law any longer. Thanks be to God for sending His son and for His grace! We get to enjoy relationship instead of ritual! 
Some Sundays don't go exactly how I described. Some Sundays the boys get to use their electronics, but most Sundays are a day for us to focus on things outside of electronics (we all need a good detox every now and again), and it makes us more present and intentional with each other. I didn't have kids to put them in front of a screen. I want to teach them. I want to spend time with them. I want to get to know who God made them to be. And, likewise, if I'm always in front of a screen, I'm setting a poor example for them to follow. 
If you haven't listened to my social media episode, I encourage you to go back to it. You can search Red Hot Mindset and Why I quit Facebook, and you should easily find it. I've been super intentional to limit my social media intake because it was becoming a sort of addiction and problem. I'm my kids' best example, and I want them to see that there's way more to life than online drama.
It is not a weakness to take downtime.
It's actually so, so important! It gives you time to reflect on where you are and where you're going. It's a time God can really speak to you because you're not distracted by all the busy-ness around you. Busy is a distraction! If you're too busy to have a quiet time, then your priorities are maybe not quite right. We can't allow ourselves to be too busy to find time for God. He wants to have a true, authentic relationship with you, and that doesn't happen when you ignore Him! I'm guilty of this too, so I'm not just telling you this. It's a reminder for me that God comes first. 
I'm the queen of busy! Okay, I should say I WAS the queen of busy.
I hardly had time to breathe let alone a moment for a quiet time or my family or anyone else. Let's be real, I was so selfish! Busy is a distraction to our true calling of serving God and advancing His kingdom.
All right, I'll get off my soap box, but I do challenge you to look at where your time is going. Are you saying you're too busy for certain things like spending time in the Word? If so, force yourself to take a rest day and get alone with a journal and a Bible and reflect, pray, ask God to guide you. Ask him if there's anything He wants you to let go of so you don't stay in the busy trap. I'm telling you, it's freeing! 
I have to share a story with you that happened about a month and a half ago.
While walking with a friend on a Saturday morning, we witnessed a head-on bicycle collision on the path. We saw the bikers coming and stepped off the path into the dirt, but one still moved over a bit too far trying to avoid us, and it all happened so fast!
This was a scary sight to see, as both bicyclists flew off their bikes and landed on their backs and bonked their heads. We were in shock, and they were too. The bicyclists couldn't see each other because the spot we were near was a blind spot. We couldn't warn them in time about each other either. We can't see our own blind spots!
There are so many ways I could divert and share about how this experience impacted me, and maybe I'll share those more in depth at some point, but the one thing I noticed in all of it was that a bunch of us banded together to help these men.
The one biker was mostly fine with a few scratches and maybe a minor concussion. The other one, an older man, hit the pavement with so much force, and we actually didn't even see all the underlying issues that came out of it right then in the moment, but he was bleeding from both his elbows and his head, and all he wanted to do was stand up.
I wouldn't let him. I tried hard to keep him calm, and we did get him to the side of the path away from oncoming traffic. I knew immediately that he at least had a major concussion, as he didn't know what day it was and couldn't recall what happened. He was wearing a chain with his wife's number on it, so while another guy called the paramedics, I called his wife. We united in the moment to ensure this man was safe.
I wasn't looking off into the distance and thinking about all the things I had to do that day or how this was an inconvenience to my life. I only mention this because a while back, those selfish thoughts may have arisen because of how busy my life had become! 
In the past, I probably would have had selfish thoughts of all I had to do that day and how this accident was keeping me from those tasks. How selfish can I be?! I'll never put myself back into that place again. 
Galatians 5:13 says we are called to use our freedom to serve others, and I consider simplifying my life a sort of freedom so I can look outside myself and to how I can help someone else. Simplification means we can take our eyes off ourselves and have time for others.
I may not be financially free, but I have confidence that God will supply all my needs, as he says in Philippians 4:19. He's proved that over and over. But I am free of the burdens I once had outside of Christ. Through Him I have all the resources I need, and I also have access to rest, joy, and peace. You do too! Isn't that good news? God cares about us and loves us so much that he takes our burdens and gives us a peace that passes all understanding.
So rest in Him. Take time to rest.
December is already a full month, and because of that, like I mentioned, I'm taking the rest of it off the podcast, but I want to share with you where we're going because I'm excited about it!
In December we're headed back to Minnesota for a couple of weeks to visit family, and I want to be present while I'm there. We are gearing up for the gymnastics meet season for the boys (whatever it will look like this year), and I'm also gearing up for the release of an anthology I'm a part of called The Lemonade Stand!I have a chapter in there called, "Running For My Life," and I get real about my lowest point as I struggled with a very deep depression in college and how God pulled me out.
Stories like this aren't talked about enough, and I have a heart that breaks for the younger generation that feels unheard and is choosing to give up entirely. I want them to know they're not alone, and I see them, and a very loving and gracious God sees them. 
I really feel like 2020 has taken its toll on the teenage generation, and many felt a sense of hopelessness and desperation as the walls came crashing down around them. We lost too many young kids in this season. I'm passionate about helping them develop their giftings and find their acceptance in Jesus alone. 
I know the beginning of the year will feel like a busy season, so I choose to rest now. It's important to slow down to speed up, and that's something we'll talk about soon. I'm so excited to dive into the topics I feel called to share with you! I feel this year is the year of simplifying!
This next year on the podcast, we'll talk about simplifying your goals. I think it's important to find a balance of being present and intentional while going after goals, and when you learn to simplify the process, that can be attained. We're going to talk about how to have God-guided goals and seek a God-guided life, letting Him lead so we don't have to hold the burdens or pressures life dishes out.
We'll dive into finding our giftings and passions and how we can use them to influence others and continue to advance the kingdom of God. I'm going to share about God-discovery rather than self-discovery and why self-love is actually toxic to your true calling and why you don't have to love yourself before you love others. We actually love ourselves way too much! It's time to turn our eyes outward and upward. When we have God-discovery rather than self-discovery, we actually learn a ton about ourselves in the process!
As we talk about simplifying, we'll talk about hustle or why I believe you should have a lack of it! The hurried disease is a distraction to our higher purpose. This mindset is unhealthy and will lead us into burnout — I'm living proof of that.
And, on top of all that, I have some conversations to share with you of amazing women who are brave enough to share their struggle/victory stories. We'll continue our 2020 Boston mother runner series through April (when the 2021 Boston Marathon should have taken place — who knows when it's actually going to happen), and I have some other special interviews lined up as well.
The podcast will go from three episodes a month to eight!
We'll have four longer episodes on Tuesdays that you can take with you on your workouts or as you're driving your kiddos around. Then we'll have four shorter episodes to help you live your life more intentionally. These are with a few of my special friends I can't wait for you to meet! I'll share more about this later, but these episodes will be short enough for you to listen to while you're getting ready for the day, and they'll be packed full with actionable tips you can implement immediately.
I've just been really excited about where God's taking me and the journey He's taking me on and what He's encouraging me to share and how He's transforming and shifting my ministry and my message. I want it to be God-centered, and I want it to be a message about God-guided goals and how to win God's way. He wants to use us! He gave us passions and giftings for a reason. It's how we use them that matters. Are we using them to glorify ourselves and for personal gain, or are we using them to glorify Him? 
That message has been so encouraging to me, and I promise I'll dive deeper into it. But that's where He's taking me, and it's been so cool so far! He has revealed things to me that I had wrong and that I had to change, and we'll talk about some of those things on the podcast and on social as well. I'll share that because I'm not afraid to share when I get it wrong — I used to be. I used to think I had it all right and that my way was the right way, my way or the highway, but it's not! It's God's way! 
I'm excited to see where this goes and to share with you more about what I'm learning, and I'm hoping you are embarking on your own journey and finding those gifts and passions and using them!
I'm ready to leave 2020 behind, and I'm sure you are too. But I have to say, this year, though it was taxing in many ways, made me really think for the first time on my own, opened my eyes to some places I had it wrong, and helped me get my priorities in order and put myself in check.
Looking back, what did 2020 do for you?
Did you discover anything through it? One thing I did realize is that we are not guaranteed tomorrow, and anything we're passionate about can be taken away from us in an instant, so make sure not to place things or activities as idols in your life. Make the main thing the main thing.
Who knows what 2021 will bring, but I know I'll be ready for whatever comes. Will you? Let God guide you in your goals and in your life! And, In all things, I pray you just run YOUR race. I believe in you. 
Step into the fire and come out stronger!
If you want to stay at the forefront with me, sign up for my newsletter where I bring mindset, goal-setting strategies, and encouragement directly to your inbox, and you will be in the know for future podcast episodes!