Why I Stopped Following the Prosperity Gospel
Wrestling With My Faith
TUNE IN: Apple | Spotify | Stitcher | Castbox | Google Play | Amazon
Links Mentioned in Episode
Subscribe and Review in iTunes
If you're not already subscribed to the Red Hot Mindset Podcast, I encourage you to do that today to ensure you don't miss an episode. Let's step into the fire and come out stronger! Click here to subscribe in iTunes. You can also subscribe on Spotify | Stitcher | Castbox | Google Play | Amazon.
If you resonated with this last episode, please leave a review on iTunes. Reviews help others find my podcast and add it to their own library. Be sure to tune in because I may even feature your review on an upcoming episode! I appreciate you taking the extra time to share your thoughts.
Click here to share your review:
Click "Listen on Apple"
Select "Ratings and Reviews"
Select "Write a Review"
Share what your favorite things are about the podcast!
Transcript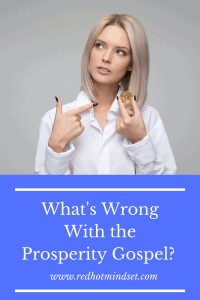 What happens when you find out that what you believed for the past 14 years was almost truth, but it missed the mark by that much? If it's almost truth, it's not truth. Hold on tight because I'm going to get real and raw with you in this episode and share just what I've been wrestling with the past months and how I've shifted my mindset.
Hey friends! Welcome back to Red Hot Mindset! I'm so glad you're here, and I hope you're having a great week. It's October, and the leaves are changing color, the air is getting crisper and cooler, and the smells of pumpkin and apple are all around. Fall is one of my favorite seasons for those reasons! It's my favorite running weather too! 
Today I want to get real and raw with you about some things I've been learning, and it's going to have an impact on where I'm taking this podcast as well.
My faith has been so important to me over the years, and it's hard to do any writing or speaking without incorporating it, so moving forward, you will hear more about it. It's a shift I'm feeling called to make, and I'm pretty excited about it.
Today I want to encourage you to continue learning and growing, and when you have a question about something, take it to God in prayer, search God's Word, do some research, and find the truths. Don't just take what you hear and run with it, but make sure it lines up with truth. The hardest part is discerning truths from almost truths because the almost truths are wrong, but they usually sound good and are packaged in an appealing way to make them look like truths.
I've been wrestling lately with some of the beliefs I have held over the years, and I'm working on redefining who I am in Christ, and much of it goes back to the basics — because it really is that simple. 
I've always been deep into my faith and worked to grow a relationship with God. I believe wholeheartedly that Jesus Christ is my risen savior, but somewhere along the way, I began buying into more of a works-based gospel, rather than a grace-based. I believed the more I gave the more I would get. I was told to ask for specific things and give for specific things and watch God give them to me. It was almost as if I treated God as a genie in the bottle, always asking Him to do things for me and expecting them just to magically happen because I gave.
Now, bear with me on this. I believe God wants to give us good gifts and bless us. However, I do not think those blessings are always financial or that we get to choose the when or the how or the what. 
Think of it this way, we are His children. It states over and over again in the Word that He is our Father. I don't know about you, but I do know that I want to give my kids the best things in life. However, I don't just give them everything, and I especially don't just give them something because they want it so badly and beg and plead until I give in. That's called whining and spoiled.
I wonder what it sounds like to God when we ask over and over for things …
"I want it, and I want it now! I want a new car. I want a better house. I want a better job. I want out of this trial immediately. I want this, and I want that." 
What would you say if your kids whined at you all the time and said, "I want this next best video game. I want this bigger and better bike. I want a phone. I want a computer." Whatever it is kids are asking for these days. They're never satisfied. They're whining at you all the time, or they're saying it to you all the time. 
Is that repetitive whining going to make you give it to them? No. Maybe eventually you do give something to them because it's what's best for them, but, ultimately, you are going to do what's best for them. You're going to make them understand delayed gratification. You're going to help them understand that they don't just get what they want all the time. You will provide for their needs, but you're not just going to give them everything. The child who gets everything he wants is labeled a spoiled brat! 
That's how God is with us!
We probably sound like spoiled brats to Him, always asking for more, more, more, never seeming contented with what we have already. What He desires most is a relationship, and if we're busy asking Him to do things for us all the time, how is that a two-sided relationship? He desires for us to know Him, to spend time with Him.
I give my kids what they need, and as their mom, I know what that is even if they think they know better, and sometimes I give them what they want because they are ready for it, or it is what is best for them. If we do this with our kids, don't you think God does this with us? We may not get what we want because it's not best for us!
Isaiah 55:8 says, "'For my thoughts are not your thoughts, neither are your ways my ways,'" declares the Lord."
His plans for our life are so much higher, and we need to trust Him to take control! He will provide for our needs, and He will bless us when it's best for us. 
Matthew 6:25-27 says, "Therefore I tell you, do not worry about your life, what you will eat or drink; or about your body what you will wear. Is not life more than food and the body more than clothes? Look at the birds of the air; they do not sow or reap or store away in barns, and yet your heavenly father feeds them. Are you not much more valuable than they?"
I remember back to 2014 when I was pregnant with my youngest son, and we made the decision that I would leave full-time restaurant management to come home, as we would have three young boys, two of whom I was homeschooling. However, the very day I came home on maternity leave, my husband also came home, as his company was restructuring and dropped his position. 
The fear started creeping in. What were we going to do? How were we going to keep up with everything if I wasn't working? I could have gone back after my maternity leave, but we felt strongly that me stepping away was what God was leading us to, so we just trusted Him, and I put in my notice.
That summer wasn't easy, but it was peaceful. I had more peace than I had had in a long time. I read the Bible in six months, in the early-morning feedings and snuggles, and I held onto the promises that God was in control, and He would take care of our needs.
It was almost eight months before Josh found a new job, but it was a step up from before, and looking back, we never fell behind. God is good!
I'm not sure why I went on that tangent, but it shows that He is faithful, and even if we can't always see or understand His plans, they are best. He's proven that time and time again. So, back to the fact that God is our Father. As a parent, I don't always give my kids what they want, but I always provide for their needs. 
How about this … My kids don't like it when I discipline them, but it's my responsibility to train them up into responsible adults, and that means I have to discipline them when they go astray.
Otherwise, how would they learn? Many people think that because God is good, He doesn't cause any bad, and I used to believe that too. I used to believe that none of my trials were directly from Him. He wouldn't give me trials, would He? But, as a father, He has to be able to correct us when we stray. His discipline builds our character. 
For years I believed when bad things happened, and I didn't get results right away or find healing it was because my faith wasn't big enough. But isn't that a works-based faith? We have to have the right amount of faith and not doubt at all, not a lick, in order to see results. With that thinking came turmoil within because I felt like no matter how hard I tried, I never had the right amount of faith necessary for whatever it was that I sought. 
Isn't it funny that God says we only need a mustard-size faith? A mustard seed is the tiniest of seeds, but it grows into the largest of trees. All we need is a mustard-sized faith, and God can meet us there!
In the Word, God never says we can hide from trials. It actually says they WILL come! Trials come to teach us something. They build us.
 James 1:2-4 says, "Consider it pure joy, my brothers and sisters, whenever you face trials of many kinds because you know that the testing of your faith produces perseverance. Let perseverance finish its work so that you may be mature and complete, not lacking anything."
Isn't that what we want for our kids too?
Going back to getting what we want, I was under the impression that we had kingdom principles here on earth, and God wants us to prosper financially. Now, I do believe he may prosper us financially, but He is clear about keeping your eyes on eternal things and storing up treasure in heaven, not on earth. If we have kingdom principles here and can get whatever we want by having enough faith or believing enough or giving enough for it, then what is the appeal to heavenly treasure?
In my quiet time just the past week, I was reading 1 Timothy, and chapter 6 talks about the love of money. I'm sure many of you have heard the saying that it is not money that is evil, it is the love of money that is. I believe that too, but that is one of the premises of the prosperity gospel saying we can have all the money as long as we don't love it. But if I'm continually asking God for financial gains, then how am I not loving it?
Material things can become idols in our lives, and the, "You can have whatever you want or think about," theory isn't Biblically sound. Yes, you probably can if you choose to use the law of attraction or other New Age principles because they do work. But they're not Biblical. All I want and need is Jesus and the true gospel message. 
I believe wholeheartedly in taking a look at the context of a scripture rather than just picking and choosing verses that meet my needs. So I want to read to you 1 Timothy 6:1-10 and dive in a little deeper into the love of money.
"If anyone teaches false doctrines and does not agree to the sound instruction of our Lord Jesus Christ and to godly teaching, he is conceited and understands nothing. He has an unhealthy interest in controversies and quarrels about words that result in envy, strife, malicious talk, evil suspicions, and constant friction between mena of corrupt mind, who have been robbed of the truth and who think godliness is a means to financial gain.
"But godliness with contentment is great gain. For we brought nothing into the world, and we can take nothing out of it. But if we have food and clothing, we will be content with that. People who want to get rich fall into temptation and a trap and into many foolish and harmful desires that plunge men into ruin and destruction. For the love of money is a root of all kinds of evil. Some people, eager for money, have wandered from the faith and pierced themselves with many griefs."
No where in there does it say money is evil. It's just dirty paper. It does say the love of money is evil. But some of the teachings in the church these days are niched to the fact that God wants to bless us and only bless us, and all we need to do is give to receive, and we can have it all. We can have wealth and God and all the material things that we want. 
Our focus shouldn't be on how much money we can make, it should be on pursuing God and truth.
If He blesses us with it, then he expects us to steward it well. Good people with money do good things, and I believe God wants to give us financial resources so we can further His kingdom. But that's not the gospel. The gospel is simple and basic and love and truth.
God isn't our genie in a bottle. He doesn't serve us. We were put here to serve Him and advance His kingdom. This is really more about perspective than anything. Where do you want to store your treasure? Here on earth where it will all be destroyed eventually anyway? Or in the eternal where it will matter longer?
So what does renewing your mind mean? It means getting in alignment with who God is and what He wants for us.
We know that He will take care of our every need, and He will be there for us. He will never forsake us, but that doesn't mean he's going to give us the latest and greatest things. We may not ever get them. Are you okay with that?
These are just some of the things I've wrestled with lately, and moving forward, I'm going back to the basics. This is why being in the Word matters! We can't just take what we hear or read as truth. We need to dig into it for ourselves. It's also important to read the Word in its context, not just taking out one or two verses to serve our needs. We don't get to choose the meaning. It's there if you read it! Read the whole chapter to see what the verses are saying. 
In future episodes I may go deeper on this, but as I'm reading the New Testament through again, this time I have with it new eyes, searching for truths in the Word and not in other books or preachers. Deception is all around us, and we need to have our antennas up to discern truth and truth speakers.
It doesn't matter how much you give, how much faith that you have, how much you serve. God doesn't love you more the more you do! Grace is a gift. It's not earned. All we need to do is readily accept it. We need enough faith to let down our pride and say we need a savior. We are saved by grace, and it has nothing to do with how good or positive we are because no matter how positive or good we think we are, we are not innately good.
Matthew 19:17 says, "'Why do you ask me about what is good?' Jesus replied. 'There is only One who is good. If you want to enter life, obey the commandments.'"
Luke 18:19 says, "'Why do you call me good? Jesus answered. 'No one is good — except God alone.'"
We are sinners in need of saving, and thank God that he loved us enough to send His son to save us. I'm not sure I would have readily given a child of mine to save the world. Him being willing to do that is good news, which is why they call it the gospel. Let's not get caught up in a works-based faith or a prosperity gospel. The gospel is about a gift given to us even though we don't deserve it. By saying yes, we are given a provision gospel. 
We can do good things, give and serve. All these things are good, but none of them make us more worthy or deserving of God's grace. I encourage you this week to go back to the basics. Dive into the Word and read it for yourself. 
I'd love to hear what you think about this topic. I know it is controversial, and I lived in the prosperity gospel for years. I thank God that He opened my eyes to the truth about who He is and His role in my life as my father, not as my genie.
Hop on over to the Red Hot Winners Community on Facebook and share your thoughts! Have you wrestled with this topic or others when it comes to your faith? What does your growth journey look like? What are some things God is revealing to you in this season? Send me a message on instagram @redhotmindset if you have anything specific you'd like prayer for. I'm hoping this episode gives you permission to wrestle with your own questions and to go searching the Word for the truths. God says if we seek, we shall find. He's talking about Him! We will find Him and His truth if we seek it!
In all things, I pray that you just run YOUR race! I believe in you!
Step into the fire and come out stronger!
If you want to stay at the forefront with me, sign up for my newsletter where I bring mindset, goal-setting strategies, and encouragement directly to your inbox, and you will be in the know for future podcast episodes!