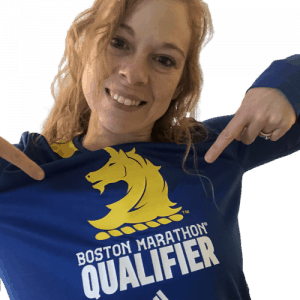 The Boston Marathon 2020 is coming, and I'm in pre-training right now. We are officially one week out from the start of official marathon training. I have eighteen weeks to be ready to run, and the road won't be easy. It will take grit and fight and probably some pain, but it will be worth it. I'm on the road to recovery from a broken ankle last winter, and this will be my first race since,
I'm calling it my victory run, and I want to bring you along on the journey.
I've chosen to do the Level One training specific to the Boston Marathon that is found on the race website. It is a 4-day-a-week run plan with less mileage than the others, and since I'm still recovering and getting back to it, I decided this was the best choice for me. I'm essentially a beginner runner again as I work to get back at it, get my form back, gain back the endurance I lost, gain back the strength I lost, and build up that mileage slowly.
I'm used to running 6 days a week, but I know my body can handle about four days right now.
I know this is a season for me to work hard on strength and balance and get back to where I was, so I will focus my attention on that more than on the number of miles I need to run. 
The plan includes a bunch of speedwork and hill training, and I will work on that, though I won't push myself faster than I should. My plan is to train for a 4-hour or 4-hour, 15-minute marathon, so my marathon pace will be between 9-9:15 min/mile. That is the pace I will work to train for.
After Boston, I can re-evaluate my goals and paces and see if I'm ready to go after another lofty goal.
I have the Erie Marathon in my sights for either September 2020 to work for one more personal best time, a sub 3:15, but if I'm not ready, I will adjust that goal. Maybe it will be a 2021 goal.
Either way, I know I want to push myself to another level and prove to myself — and others — that an injury doesn't have to stop us from going after our dreams. An injury is a major bump in the road, but it's what we do with it — how we react to it — that will make all the difference.
Over the past two weeks, my runs have started to feel good, or I'm at least feeling more like myself out there again. I'm super slow compared to where I was, but I'll take running happy at a slower, steady pace any day! I'm up to six miles and have done that a few times now. 
My last day of therapy was yesterday! We finished up with adding jumps in all directions (up and down, forward and backward, and side to side) into my regiment, and things are feeling like they're progressing nicely.
The best part is that I'm feeling more confident in myself and really believe that I'm ready to train for a marathon.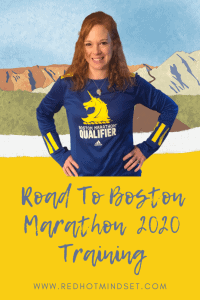 I have a goal attached so I can specify my training, but the most important goal that I have for Boston is to run it well and finish strong and happy. I want to want to train for more races in the future. I told myself if I need to walk during the marathon, I will. If I choose to do intervals, I will. 
I'm going to be watching how I progress and where I'm at, but I don't want to get to the finish line with nothing left to give this time. Most races I like to do that, but this one is all about finding the joy in running and racing again. It's my victory run, and it has so many special meanings to me. It's my first race back since my ankle injury. It's my second showing in Boston. It's about doing hard things. It's about not giving up on myself in the face of injury.
Pre-training has begun to give me a good base, and official training begins just before Christmas! The road to Boston is a tough one, but that's what makes this journey so sweet.
RELATED: Road to Boston Marathon
You can follow my journey to the Boston Marathon in my stories on Instagram @redhotmindset.
Dream huge, and remember, you are a winner. Just run YOUR race!
I'd love to hear from you! Leave a comment below and let me know, what road are you on? Where are you headed?
If you want to stay at the forefront with me, sign up for my newsletter where I bring mindset, goal-setting strategies, and encouragement directly to your inbox, and you will be in the know for future podcast episodes!