If you've ever let the fear of failure stand in your way of going after your goal, and you want to break that fear once and for all, you're in the right place!
There are many common excuses people use as to why they haven't started or finished their pursuits. There's no doubt you've heard many of them, or, like me, used them many times!
I'm too old

I'm too young

I'm not good enough

I'm starting too late

It's never been done

It's already been done

I don't have the education

I don't have the experience

I don't have the time

I don't have the resources

I don't have the support
Any of these sound familiar? Which of these excuses have you been guilty of making in the past? I know I have made more of them than I care to admit. Time has been a huge factor for me. Understanding resources and technology is another one I've used. The question of if what I'm doing actually matters or will inspire others has been in the back of my mind as well.
3 Common Fears
Here's the good news — Every excuse in the book has been made before, and all excuses boil down to three common fears:
The fear of failure

The fear of what others think

The fear of the unknown
This post is the first in a three-part series, and today we are focusing on the first of the three common fears: THE FEAR OF FAILURE. It's hard to fail something you never start, and this is probably the main reason many choose not to!
RELATED: How to Pick Yourself up After Failure
My Fears Exposed
As I've been finishing up writing my first book, I reflect on the time it took me to begin the process up until now, and it's been about five years in the making! I started with good intentions and excitement, but, for some reason, I also kept stopping. Start, stop, start, stop, start, stop … that's a long road to run, and you never really get anywhere in that race!
What it all boiled down to, however, was actually the fear of failure. I feared that it wouldn't be good enough, that it wouldn't make a difference, that I wouldn't be good enough. That fear can paralyze us from moving forward if we allow those thoughts of unworthiness to infiltrate our minds, and for a while there, I did just that.
Failure is one of the greatest fears people have, and it can stop them in their tracks. The idea of failing has a negative light and has been made notorious. In the office we get reprimanded when we mess up. We get a strike on our profile, and you can only acquire a few of those before you're booted out and replaced. It makes it hard to try new things or take the path less traveled. It can make for a toxic environment where employees are just tip-toeing around trying hard not mess up.
The Problem …
The problem with this thought process is that failure is an absolute necessity on the path to success. Interestingly, the most successful people are in that position because they have been the best at failing and the most willing to fail.

Take Babe Ruth for example. He had 714 career home runs, which is phenomenal. But you know what? He also led the American League in strikeouts five times with an accumulation of 1,330 throughout his major league career. That's almost twice as many strikeouts to home runs! He failed almost 50 percent of the time! Yet, he's one of the most memorable baseball players of all times, and he was elected to the Hall of Fame. Kids imitate him, and adults commemorate him.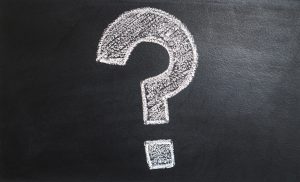 What goals do you have that you've let the fear of failure hinder and stop you from pursuing? What excuses have you made that play into the fear of failure? Are you willing to start knowing that failure is inevitable on the way to success? Are you willing to fail the most?
This Week's Challenge
This week, I challenge you to write down every excuse you have been using. You may not even realize they've been excuses in the past, but be mindful of your thoughts and words, and write down anything that could actually be an excuse in your life. Note if any of them seem to be a fear of failure, and write that next to each excuse that lines up with that fear.
I have not failed. I've just found 10,000 ways that won't work. — Thomas Edison
Final Stretch
Shockingly, many people are afraid to try new things in fear of failure, but it doesn't have to be a bad thing. We can turn failure into a positive. It is grounds for learning. We need to develop the skills to take that failure and grow from it. Be willing to fail, it means you're that much closer to your victory. Those who fail the most win the most.
And, remember, you are a winner. Just run YOUR race!