10 Steps to Achieve Goals In All Areas of Your Life
I know you've decided on a goal for the year, and you have that dream you've always wanted to go after, but you haven't done much about. Sometimes we hesitate because we don't understand the steps to achieve goals.
We are going to change that!
These 10 steps to achieve goals that we are going to talk about today are the key ingredients to helping you reach for success. If you skip any of them, it's like leaving the baking powder out of the cookie recipe… not good.
I remember one time when I was a kid, I was all excited to make chocolate chip cookies on my own, and I got all the ingredients out, mixed them myself, and baked them! I was so proud of myself, but my cookies didn't turn out! They looked like a globby mess, and I didn't know why!
My aunt was over at the time, and she asked me what I put into them. I showed her and my mom the ingredients I used and how much, fully expecting them to have no idea why they didn't turn out right, and they both started to laugh!
Seriously, I followed the recipe! What was so funny?
It turns out that I mixed up the ratio of flour to sugar. I used way more sugar and less flour, and it turned into a recipe for disaster. When I remade the cookies with the right amounts of each ingredient, they turned out exactly how I had planned for them the first time!
So why is this important? Why does it matter? Because, just like you need all the ingredients listed in a recipe to make a delicious cookie, you need all the ingredients we talk about today to conquer your God-given goals.
There is a structured framework we can follow to see our goals through. If we skip a step or two because they make us feel uncomfortable, or we're afraid, or we just don't want to do them, then we may eventually get to the finish line, but it will absolutely take longer and be more complicated.
These 10 disciplines are the shortcut! Why not bake a delicious cookie today by following the recipe to success?
Snag the 10 disciplines checklist here!
10 Ways to Achieve Your Goals
These 10 ways to achieve your goals will not only set you up for success, but help you understand an important process that you can use in various areas of life.
#1 Do you have a specific goal or dream written down?
Not just in your head… is it written down and in front of you every day? Can you see it?
If you are asking yourself how to achieve goals, the best way to start is to write it down and put it somewhere you will see it – often.
Be specific. Vague dreams are just that, dreams. This is a goal that you are willing to put a lot of work into achieving. State it out loud. Confess it on paper. Let's make this happen!
#2 Do you have a clear, meaningful WHY?
If you want to know how to achieve dreams, this is an important one.
You need something motivating to drive you, something that will actually get you excited to get out of bed every day, something that keeps you awake at night because you're too excited to sleep! What is your biggest motivator really? How do you set yourself up for success from the start?
Why do you want to run your first marathon? Maybe it's because it will help you lose the 10 pounds you want. Or maybe it's so you can be an example for your kids. Maybe you used to be a hard-core athlete and you want to bring some competition back to your life.
Why do you want to be present for your kids? Are there certain things you want to teach them before they leave home? Do you want to show them how to play alongside working hard? Do you want to create memories you all can cherish?
Why do you want a clean and less cluttered house? Are you stressed out all the time and think it could bring some peace to the home? Do you want time to do other things and not have to be weighed down by the daily mess?
#3 Have you posted a picture of your dream that you can look at every day?
Do you put pictures that symbolize your dream in front of you so they can be a focus in your daily life? The more you see them, the more apt you are to take action on them. It's also a great way to pray over them, seek God, and ask Him to direct your path. Keep them top of mind!
This reminds me of teens. They doodle the name of a boy they like, sketch their dream car, or scribble whatever is cool on their forearm with a pen.
Be expressive, allow yourself to dream, organize it in a way that makes you smile each time you look at it, confident that you are making steps to achieve your goals.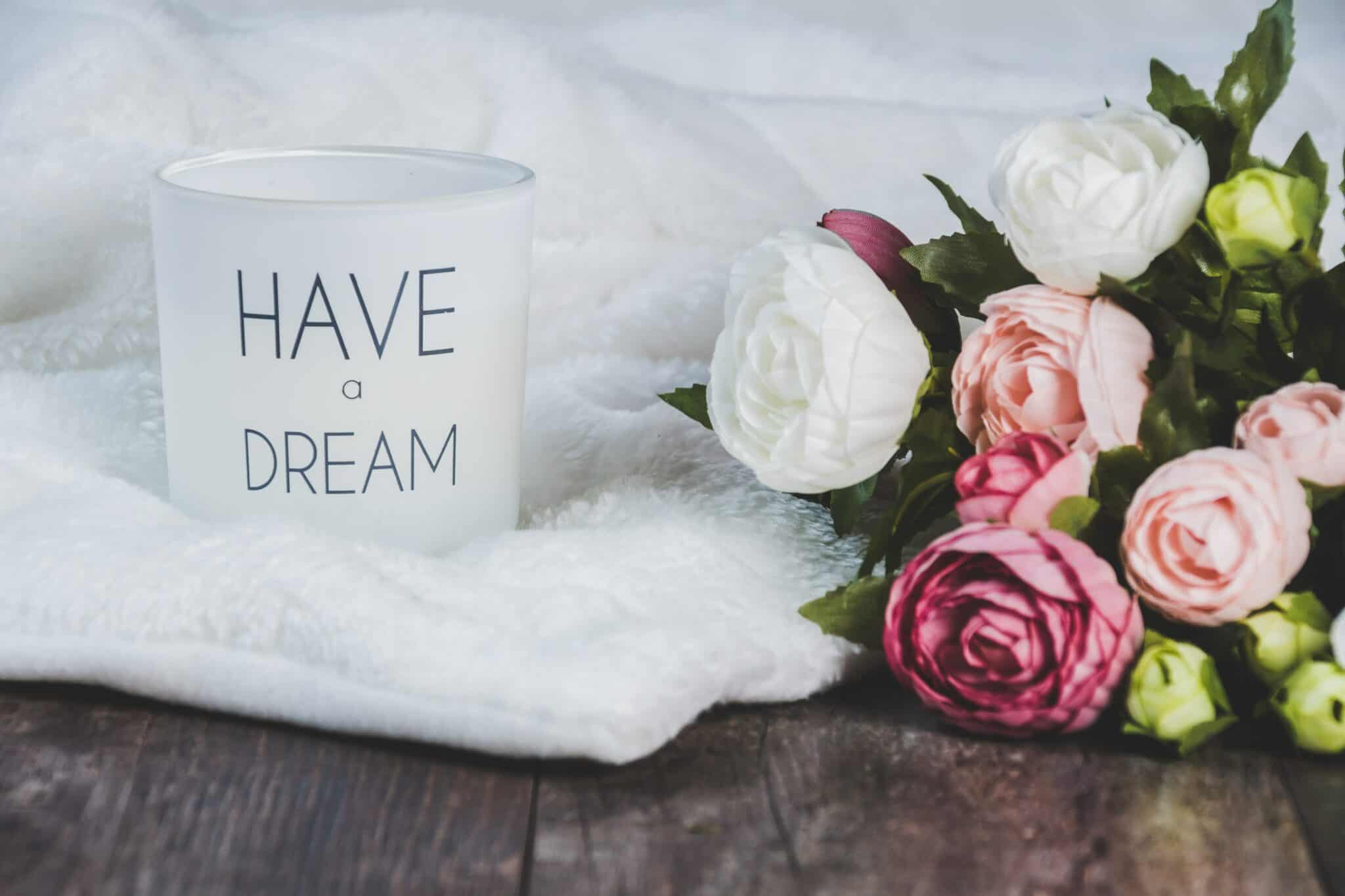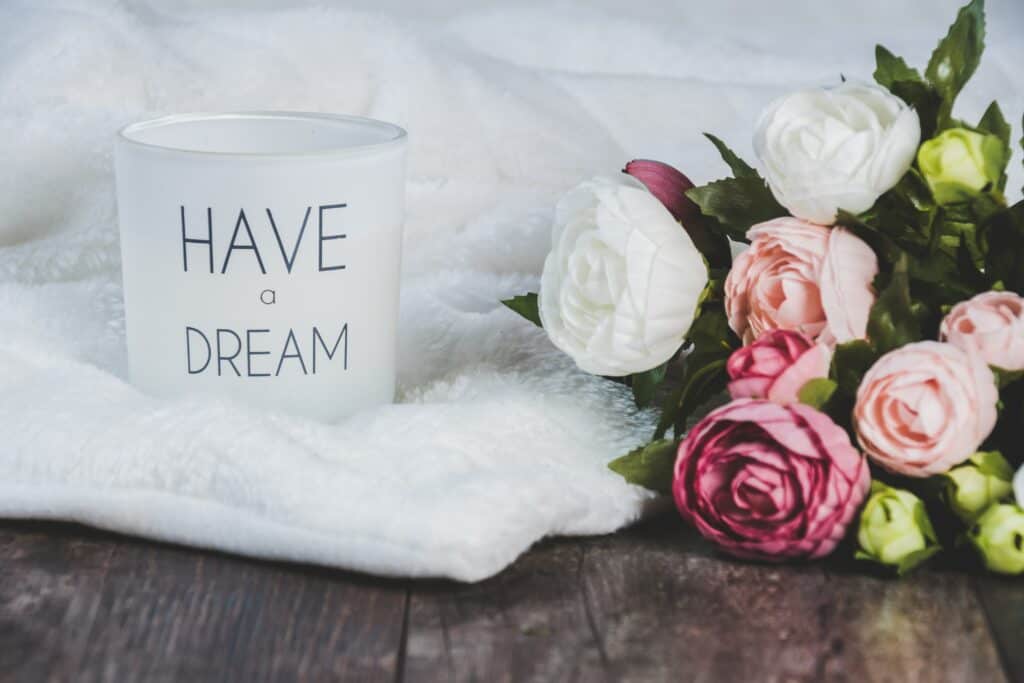 #4 Do you read God's promises daily?
Speaking God's promises alone won't get you to the finish line, but you better believe they will help you gain the confidence you need to take the action that will drive you to your goal!
Here are some of God's promises to get you started, but I encourage you to find more in your quiet time:
"So do not fear, for I am with you; do not be dismayed, for I am your God. I will strengthen you and help you; I will uphold you with my righteous right hand" (Isaiah 41:10).
"I will instruct you and teach you in the way you should go; I will counsel you with my loving eye on you" (Psalm 32:8).
"Have I not commanded you? Be strong and courageous. Do not be afraid; do not be discouraged, for the Lord your God will be with you wherever you go" (Joshua 1:9).
"But he said to me, 'My grace is sufficient for you, for my power is made perfect in weakness.' Therefore, I will boast all the more gladly about my weaknesses, so that Christ's power may rest on me" (2 Corinthians 12:9-10).
Here are 7 more promises of God you can count on.
RELATED: Promises for peace
#5 Do you have a plan in place to work toward your goal?
A plan. A plan provides direction and a starting ground. When you have a plan you have something to reflect on and make tweaks and adjustments to. A dream is just a wish without a plan and action backing it.
This can be a list, a series of pictures, or sticky notes arranged on a board.
The Bible has a few wise words on plans, and I think it is important to insert them here to help us to remember to constantly be seeking God's plan and His wisdom as we pursue our goals.
"The plans of the diligent lead surely to plenty, But those of everyone who is hasty, surely to poverty" (Proverbs 21:5).
"Trust in the Lord with all your heart, And lean not on your own understanding;
In all your ways acknowledge Him, And He shall direct your paths" (Proverbs 3:5-6).
"A man's heart plans his way, But the Lord directs his steps" (Proverbs 16:9).
The last verse is a reminder to be flexible with your plan. Usually our plans don't turn out perfectly the way we wanted them to, but God knows what's best, and, ultimately, we should want what His plan for our life is. Allow the Lord to direct you as you take action.
RELATED: Listen in on the Pursuing Goals God's Way podcast–How many of these 10 ingredients are you adding to crush your goals? episode 15
#6 Are you on a personal and spiritual growth journey?
If you are asking yourself how to achieve dreams, this is one that you should spend some time working on.
If you aren't willing to grow yourself, you'll never leave the place you're at. Do you take the time to read or listen to success audios, or take courses to continue your education?
Do you take time each day in the Word to hear from God? Did you know that when you go on a God-discovery journey, you ultimately go on a self-discovery journey as well? As you deepen your relationship with the Lord, you will discover who He created you to be and the plans he has for you specifically.
A little introspection and prayer can reveal where you need to grow. Is it in your business, your relationships, your personal devotion time?
If you need suggestions for some life changing books, here are 3 most influential books in my life (outside of the Bible, which is #1).
#7 Do you have a positive association to grow in?
Who are you surrounding yourself with? Do they uplift you, support you, and encourage you? Are they growing themselves and excited about life? Do you feel better about yourself after you leave them than when you arrived? Do you know why association is vital to success?
I love this quote by Charles F Glassman.
"Some say if you want success surround yourself with successful people. I say if you want true and lasting success surround yourself with people of integrity."
If you are looking for a positive online community, come hang out with us in Simplicity & Motherhood!
#8 Do you have an accountability partner?
Who do you hold yourself accountable to? If you don't have someone to answer to, you'll likely quit or never start. You'll cave to the excuses rather than overcoming the circumstances that surround you. An accountability partner supports you differently because you now have something to strive for. You don't want to let her down.
I see this all the time in the physical fitness world. It is so much easier to get up and moving when you have others with you doing the same. It's also no fun to have to admit out loud to someone that you decided to skip your workout.
Having an accountability partner will make these steps to achieving goals in life just a bit easier and a little more fun.
#9 Do you have a coach?
A coach can speak into your life unlike anyone else. She can provide the tough love that we need to get going and keep going until we get the job done. A coach sees things about you that you can't see and can guide you through the process because most likely she's been through it.
I am a run coach, and I've helped multiple women either learn to run, run their first race, or qualify for the Boston Marathon. Many would wonder why I needed a coach if I were one already, but we never work as hard for ourselves without strings attached. By investing in a coach, I knew I'd push myself harder than I would alone, and I also knew that he would have a strategy to get me where I wanted to go.
In races prior, I continued to hit new personal records, but after I qualified for the Boston Marathon the first time, I didn't think I had much more speed in me than what I put out on race day. Boy, was I wrong! My coach helped me smash my personal best time (PR) by 12 minutes!
Afterward, we talked about how the race went, and he was already talking about shaving another 8 minutes off my best time and told me he hadn't trained me as hard as he could have because I was new to working with him. We were both essentially feeling the other out and discovering just what I was capable of. You better believe that when I go for that next PR, I'm going to be hiring a coach to help me do that.
Need a coach? Check out my packages: Intentional Purpose Plan Coaching or Business Strategy Coaching
#10 Are you bold about your goals?
Do you share your goals? Do you speak them out loud? Are you willing to let others know what you're doing?
There's no shame in dreaming and going after those dreams. Don't be afraid of others and what they think. The only approval you need is your own!
Go after that goal with all of your heart and shout it from the mountaintops! Once you speak it out loud and others hear it, it's harder to give up on yourself because now you have something to prove.
What Steps to Achieve Your Goals are You Starting With?
These 10 steps to achieve your goals make up the formula for success!
These disciplines are easy to do, but they are also easy not to do. It all comes down to choice. We need to take responsibility for our goals because, unless we take the necessary action, we'll never see the results.
How many of these things can you check off the list? How many are you doing right now? Which ones do you need to add?
Get honest with yourself and figure out how to incorporate the disciplines in your life that you are not currently doing. This is the recipe for success. It's the recipe to your dreams coming true.
Snag the 10 disciplines checklist here!