When you make the decision to step up to the start line — and that is a decision you need to be firm on — there are three important steps you need to implement in order be ready to take those dreams to the finish line:
Know what it is you want

Know the "why" behind your dream.

Create a game plan that you can stick to.
Know What it is You Want.
You can't go after something if you're not clear on what that something is. Getting specific about what it is you want is so, so important. What dream is stirring inside of you? What is it you want to accomplish?
Break it down into more specifics. You can even use the SMART method that many people talk about when it comes to goal setting. SMART means your goal is specific, measurable, achievable, relevant, and timely. Each of these is crucial to think about as you plan what it is you truly want.
Is your dream SPECIFIC?
Do you know exactly what it is you are going after? Is it simple enough to understand and implement, but does it have some type of significance attached?
Is your dream MEASURABLE?
Does it have meaning to you? Is it something that will motivate you enough to do the work to attain the goal?
Is your dream ACHIEVABLE?
At the moment, it may feel unattainable if you're a big dreamer, and I actually want you to have a dream that feels somewhat out of reach! It's important for us to have dreams that seem larger than ourselves. But you have to feel in your heart of hearts that it is attainable for you, otherwise, you won't even get started working toward it. It will remain a wish of your heart.
Is your dream RELEVANT?
Is your dream results-based? Can you measure your progress throughout? Are there tangible ways to do that? It's important that your dream be realistic in the fact that there are resources and tools out there for you to use to create the results you are looking for or that there are ways for you to develop those necessary resources.
Is your dream TIMELY?
Does your dream have a specific deadline attached? There needs to be some sense of urgency related to your dream so you feel like you have to start now. Otherwise, procrastination can happen or excuses can take over, and before you know it, your dream fades.
Know the "WHY" Behind Your Dream.
If you don't have a "WHY" attached to your dream, you will be less motivated to see it through. The WHY is what gets you out the door every day to take action. The WHY is the key driving force. Your WHY trumps your belief in achieving the dream.
The bigger and more developed your WHY, the more burning passion you have inside of you to get the job done even if your dream seems so far out of reach.
How do you find your WHY? You will need to take some time in the quiet to develop the reasons this dream matters to you. Journal your thoughts. Ask yourself more questions. But just don't skip this step.
What would happen if this dream came true?

What would happen if it didn't come true?

Why does this really matter to me?

Whom will I be affecting if I go after this dream?

Whom will I be affecting if I don't?

What are the results I'm looking to create?
Knowing your real WHY is your largest motivator.
Create a Game Plan That You Can Stick To.
Without the how, the plan will fail. I've heard it said that proper planning prevents poor performance. The five Ps. Proper planning prevents poor performance. You have to have a plan attached to your dream.
How are you going to make it work?

How are you going to create the time to work toward it?

How much time will you need to invest?

What will your schedule look like?

What things may you need to give up in the process?

What things may you need to add in the process?

What resources or tools do you need?

Which people do you need in your corner?
A plan makes all the difference. A plan you can reasonably stick to is what you are looking for. A dream is merely a wish without a plan attached. Executing the plan is what brings the results.
The key ingredients you need in planning how to achieve your dream are to make sure it is SPECIFIC, including a DEADLINE, has a passionate WHY behind it, and has a GAME PLAN attached. The actual dream matters. The WHY matters! The how matters!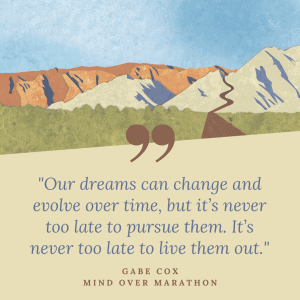 FINAL STRETCH
Are you ready to take your dreams to the finish line?
Don't wait for the right time … It won't come.
Don't wait for approval from others … Some will never give it.
Don't wait until your kids are older … They're watching you NOW!
Don't wait until you're ready … you'll never be fully ready to start!
Make the decision to start NOW! Right where you're at. It's better than waiting and never starting at all!!
If you're not a part of it already, this is the perfect place to start for support and encouragement as you work toward your New Year's resolutions and goals: Check it out here.
I also have a free online workshop to help get you started. It's called, "Create Your Goal Mission Statement," and it will be the perfect place to get you started on a specific dream and finding a meaningful WHY behind it that will lead you to take the action required. Can't make that date or time work for you? No problem, register, and you'll gain access to the replay.
Dream huge, and remember, you are a winner. Just run YOUR race!
I'd love to hear from you! Leave a comment below and let me know, are you willing to allow failure to propel you forward?
If you want to stay at the forefront with me, sign up for my newsletter where I bring mindset, goal-setting strategies, and encouragement directly to your inbox, and you will be in the know for future podcast episodes!