5 Successful Entrepreneurs in the Bible
While the Bible is often seen as a source of spiritual guidance and moral teachings, a place to find beauty and truth, it also holds a treasure trove of stories featuring individuals who exhibited remarkable entrepreneurial spirit, innovation, and resilience.
Today we're going to embark on a journey through the pages of history to discover lessons from 5 original trailblazers – the entrepreneurs of the Bible.
This post may contain affiliate links. Read our full disclosure here.
Does the Bible Encourage Entrepreneurship?
If you've wondered whether the Bible encourages entrepreneurship as you start or grow your own online business, then reading these stories of successful entrepreneurs in the Bible will inspire you to push forward where you're feeling called, no matter the challenges that may come your way.
Ephesians 2:10 says, "For we are God's handiwork, created in Christ Jesus to do good works, which God prepared in advance for us to do" (NIV)
We were created in God's image, and we are called to create. God is the master creator who put beauty and wonder in the world, and He equipped us to continue His work here on the earth. One of our greatest purposes can be found in our work, whatever God has called us to do, whether that be inside the home, at a workplace, or owning our own company.
In this article, we will focus on 5 business owners of the Bible who were successful in their endeavors to see just what God says about working for yourself.
Successful Entrepreneurs in the Bible
Does the Bible give a thumbs-up to entrepreneurship? It's a question that's been buzzing around for ages because there's not a scripture that outright says, "Go start your own online business."
But when we dive into the Bible and really read it and meditate on it, it has such nuggets of wisdom that might just inspire the entrepreneur in you. That's why today, I wanted us to look more deeply into the lives of five different entrepreneurs in the Bible.
Abraham
Ever wonder who was the first entrepreneur in the Bible (aside from God)? It was Abraham!
We can tell from Genesis 13:1-3 that Abraham became very wealthy by trading livestock, silver, and gold. By the time he rescued his nephew Lot, he had more than 300 men trained in the use of arms.
"So Abraham went up from Egypt to the Negev, with his wife and everything he had, and Lot went with him. Abraham had become very wealthy in livestock and in silver and gold. From the Negev he went from place to place until he came to Bethel, to the place between Bethel and Ai where his tend had been earlier." Genesis 13:1-3 NIV
Another way to distinguish Abraham's entrepreneurial tendencies is to look at how he made use of the land he received after splitting with Lot (Genesis 13:8-11). He gave Lot the first option, and, of course, he chose the more fertile plain, which was rich in vegetation and full of life.
Lot began his journey after splitting off from his uncle with wealth and prosperity, but he didn't tend his half well and, not only did his material possessions dwindle, so did his spiritual condition.
Abraham, on the other hand, received the less fertile half. This didn't bother him, though, and he continued to prosper despite the less appealing terrain. Not only did his wealth continue to grow, but so did his faith and relationship with the Lord. He was even making treaties with kings by Genesis 21.
Abraham was a wealthy business owner in the Bible.
Boaz
Boaz's story of entrepreneurship is fascinating, especially how it aligns with eventually marrying Ruth.
His entrepreneurial niche? Agriculture. Boaz ran his business as an extension of his faith. He proved work should not be separated from faith, but that, rather, they are two and the same. Not only was he active in the daily affairs of his business, but we also see in Ruth 2-4 that he also allowed the poor to reap his harvest as well.
This is where Ruth comes in. She would follow behind the harvesters to gather any leftover grain for her and her mother-in-law Naomi, as they were alone after Naomi's sons both passed, and she and Ruth traveled back to Naomi's homeland together.
Boaz saw Ruth's faithfulness to Naomi and told her to continue harvesting in his fields:
"So Boaz said to Ruth, "My daughter, listen to me. Don't go and glean in another field and don't go away from here. Stay here with the women who work for me. Watch the field where the men are harvesting, and follow along after the women. I have told the men not to lay a hand on you. And whenever you are thirsty, go and get a drink from the water jars the men have filled." Ruth 2:8 NIV
Boaz was one of the greatest entrepreneurs in scripture, and he selflessly gave to others out of his abundance.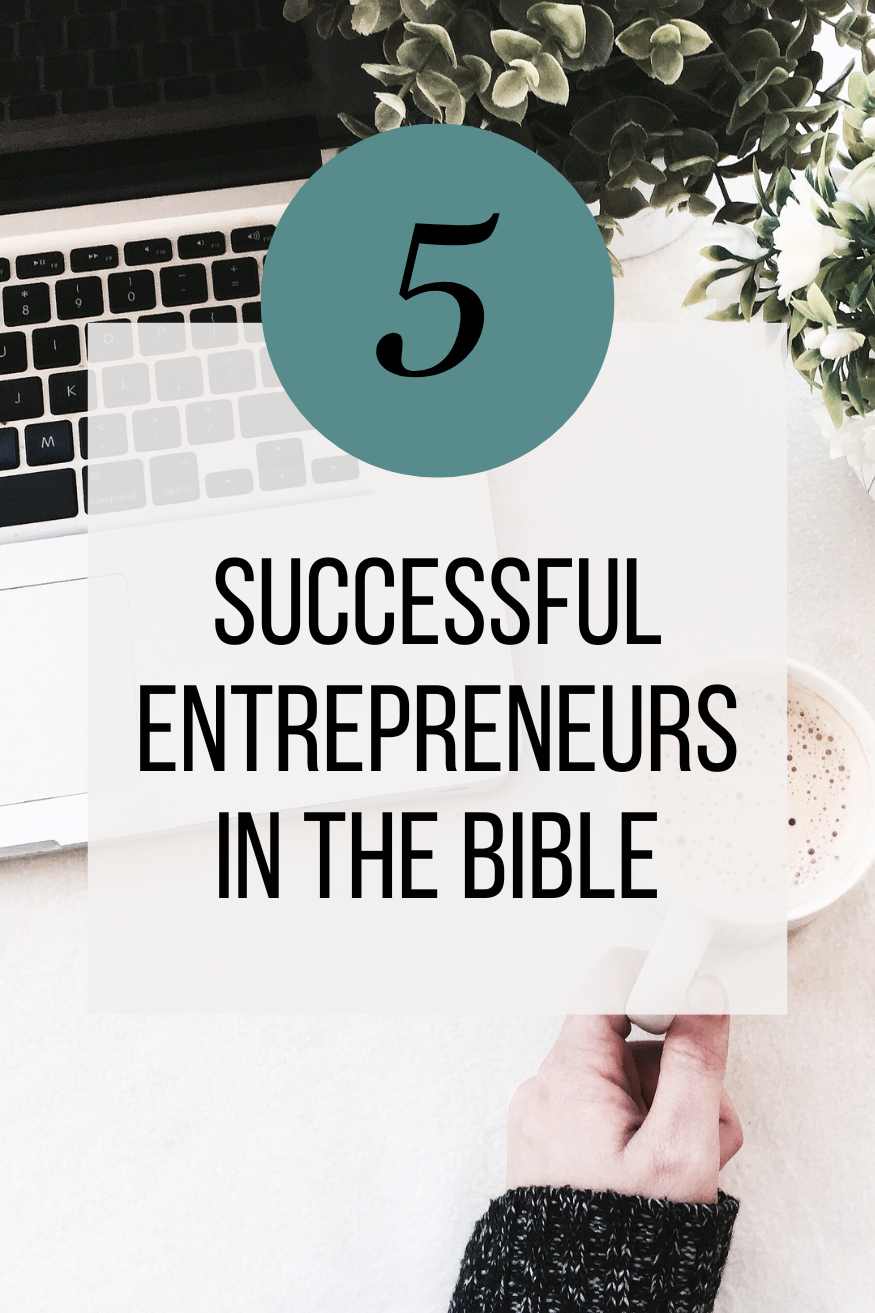 PIN FOR LATER!
Lydia
Let's talk for a moment about women in the Bible. Did you know there are women business owners in scripture?
Proverbs 31 lays out different characteristics of a woman who is business-minded, and Lydia is a wonderful example of what that looks like.
Lydia built a successful business selling purple cloth, and in those times, the purple-colored fabric was associated with affluence, royalty, and authority.
But it goes even deeper than that! In Acts 16:40, Lydia welcomed Paul and Silas into her home after they were released from prison. She led her entire household to Christianity
"On the Sabbath we went outside the city gate to the river, where we expected to find a place of prayer. We sat down and began to speak to the women who had gathered there. One of those listening was a woman from the city of Thyatira named Lydia, a dealer in purple cloth. She was a worshiper of God. The Lord opened her heart to respond to Paul's message. When she and the members of her household were baptized, she invited us to her home. "If you consider me a believer in the Lord," she said, "come and stay at my house." And she persuaded us." Acts 16: 13-15 NIV
Finally, her business in purple cloth required management skills as well as relationship building, which transferred to her becoming a leader of the first Phillipi church.
Lydia was a woman entrepreneur in scripture.
Peter
Peter partnered with his brother Andrew in building a commercial fishing business.
"As Jesus was walking beside the Sea of Galilee, he saw two brothers, Simon called Peter and his brother Andrew. They were casting a net into the lake, for they were fishermen" (Matt 4:18 NIV).
Peter was diligent and hardworking in his trade so much so that Jesus called Peter to become a disciple. And guess where he was when Jesus called upon him? At work.
The story of Peter is a reminder that God uses ordinary people, including business owners, to do His work on this side of heaven. We can learn many lessons about entrepreneurship in the Bible from Peter.
Paul
A tent-maker by trade, Paul was able to use this skill to start churches that could support themselves. He also used the learned skill to support himself through his second missionary stint in Corinth.
"And because he was a tentmaker as they were, he stayed and worked with them." Acts 18:3 NIV
Tentmaking was not as easy as the pop-up options we now have for camping. It was a tough job that took intricate detail and days of hard labor to complete.
Though tent-making wasn't necessarily a huge part of Paul's life, it was a skill he could use while fulfilling his mission of drawing Gentiles to Christ.
We see here through entrepreneurs in scripture that God will give us certain talents or have us learn certain skills that will aid in our larger calling. These trades play a specific role in kingdom work.
God calls us to "Go," and sometimes that means heading to a different continent as a missionary, or it can mean affecting our surrounding community, or even impacting our immediate family. No matter where you are, He has placed you there for such a time as this with the gifts and skills to continue His creative work.
Just as God is the ultimate creator, we are creative beings that he created to create. These five successful entrepreneurs in the Bible are encouragement for business owners to continue their work, knowing there is purpose in it and they can be used right where they're at, all for the glory of God.
---
Step into the Fire and Come Out Stronger!
If you want to stay at the forefront with me, sign up for my free newsletter where I bring weekly mindset, online business & goal-setting strategies, and encouragement directly to your inbox.