9 Powerful Bible Verses about Starting a Business
Are you considering starting a business but want to make sure you're on the right path? Are you interested to know what the Bible says about starting a business? The following Bible verses are encouragement to you as you embrace the gifts God has given you and use them to make an impact through business.
Starting a business can feel overwhelming with all the decisions you need to make and the distractions that come to try to take you off course. Use these scriptures about starting a business as your catapult for taking the next step. Allowing God to lead will bring fruit in all you do.
This post may contain affiliate links. Read our full disclosure here.
What Does the Bible Say about Starting a Business?
"The Lord God took the man and put him in the Garden of Eden to work it and take care of it." Genesis 2:15, NIV
God is the ultimate creator and, because we're made in His image, He also made us creative beings. One of His purposes for bringing humans to the earth is so that we can continue the work He started. We were created to create.
Our work is a testimony to what He's doing in our lives, and it's an act of worship. No matter what type of work you do, God put you there for a reason, so that you can use your skills and talents to further His kingdom. Starting a business may be an act of worship for you as you seek to impact others' lives and give God the glory in your successes.
Bible Verses about Starting a Business
These powerful Bible verses on starting a business will shift your mindset from trying to do it all on your own to realizing you have an opportunity to allow God to steer the ship. They will be a sounding board for you to gain the strength and confidence to begin.
Let's look at some scriptures that will encourage us to start a business if that's where we're being called to work.
1 Peter 4:10
"Each of you should use whatever gift you have received to serve others, as faithful stewards of God's grace in its various forms." 1 Peter 4:10, NIV
God has blessed every one of us with special gifts or talents that we can use to serve others and, ultimately, Him. We were created to work, and we should be faithful stewards of the gifts he's given us. For some of us, that means using our own experiences to start a business that solves a problem for someone else.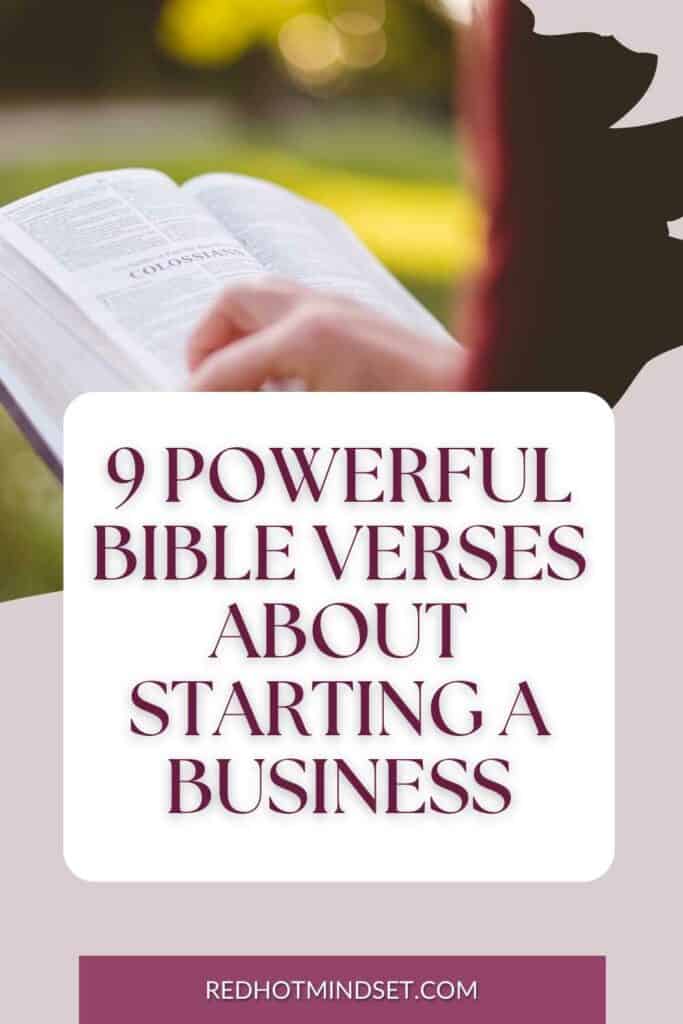 PIN FOR LATER!
Ephesians 2:10
"For we are God's handiwork, created in Christ Jesus to do good works, which God prepared in advance for us to do." Ephesians 2:10, NIV
God wants to work through you to complete His work. We were created to continue His work to create beauty in the world and draw others to Him. If He's calling you to start a business, He will direct you every step of the way.
Proverbs 31:16-17
"She considers a field and buys it; out of her earnings she plants a vineyard. She sets about her work vigorously; her arms are strong for her tasks." Proverbs 31:16-17
Just like the Proverbs 31 woman, we are called to be hardworking and dedicated to that work. We also need to be ready to make sound judgments and not get distracted by everything else going on around us. When starting a business, we should follow her lead to set goals and work toward them, to be prepared for whatever may come, and to be determined to finish what we started.
Romans 12:2
"Do not conform to the pattern of this world, but be transformed by the renewing of your mind. Then you will be able to test and approve what God's will is–His good, pleasing, and perfect will." Romans 12:2, NIV
The pattern of this world is to do what feels right to you at any given moment. That's not how God operates, though. He wants us to be careful in our decisions and to hold to the truth. In order to do that, we need to add a bouncer to our minds, allowing only what is good, true, admirable, or praiseworthy to enter in. The negative and the junk needs to be stopped at the door.
When we are committed to this process of discerning what is right and true, renewing our minds daily, then we'll be more likely to see God's next right step for us to take.
Romans 8:28
"We know that God works all things together for the good of those that love him, who have been called according to His purpose." Romans 8:28, NIV
If God calls you to business, He will diligently help you to get started and grow your company. When we take control of our situation and forget to give God the wheel, then things can get a little frustrating or chaotic.
But when we say "yes" to where we believe God is calling us, and we allow Him to guide our steps, He will use us to further His purpose. Our failures, our mistakes, our successes. Even when it doesn't make sense to us, God will use it all for the good.
Proverbs 16:3
"Commit to the Lord whatever you do, and he will establish your plans." Proverbs 16:3, NIV
Trust the process. No matter our work, whether it's in the home, at a job, or in our own business, we are to commit what we do to the Lord and allow Him to direct our steps. We can make plans – and we should! But we should leave wiggle room for God to lead. Our game plan usually won't happen exactly as we lay it out. There will be times we'll need to pivot, so flexibility is key.
Joshua 1:9
"Have I not commanded you? Be strong and courageous. Do not be afraid; do not be discouraged, for the Lord your God will be with you wherever you go." Joshua 1:9, NIV
Starting a business can be scary because you're stepping outside of your comfort zone and doing something for the first time – and you have no idea if it will succeed or flop. Sometimes we need to do the thing scared knowing God will build our courage and strength along the way when we partner with Him.
Joshua was called to fill Moses' shoes and lead God's people into the promised land. I'll assume he was terrified to be put in that leadership position. He wasn't equipped with everything he needed the very day he took on that role. But what he knew was that God would supply his needs, and with God – not alone – he could fulfill that calling.
Psalm 128:1-2
"Blessed are all who fear the Lord, who walk in obedience to Him. You will eat the fruit of your labor; blessings and prosperity will be yours." Psalm 128:1-2
This is a promise from the Lord! When you say "yes" to His direction, He will bless you in so many wonderful ways. This doesn't necessarily mean you'll avoid all hardship or struggle. He also promised that in this world we would have to struggle, but He made a way for us to overcome it.
You'll be blessed with gratitude and joy. You'll be blessed with a deeper relationship with God. You may even see monetary blessings that you can use to impact others even more. Blessings come in many forms, be ready to receive them.
Matthew 6:33
"But seek first His kingdom and His righteousness, and all these things will be given to you as well." Matthew 6:33, NIV
Keep the main thing the main thing. In all we do, in all our work, the purpose is to seek God first. Our work is a form of worship, and it can draw us closer to the Lord. Starting a business is no different, it can be a form of worship, allowing God to use your gifts and talents to create.
These starting a business scriptures are meant to be an encouragement to you as you determine your next steps. Use these as fuel to get started and build confidence in the gifts God has given you. No one else can do exactly what you do. You are here for such a time as this.
Lean into God, ask Him to direct your steps, and use these Bible verses for starting a business to turn the passion stirring in your heart into reality.
---
Step into the Fire and Come Out Stronger!
If you want to stay at the forefront with me, sign up for my free newsletter where I bring weekly mindset, online business & goal-setting strategies, and encouragement directly to your inbox.