This week's episode is a hot topic for many, and I know it's controversial in nature, but it needs to be talked about because it's affecting our kids and the generations to come. Why? Because it's seeping sneakily (and not-so-sneakily into our schools). Critical race theory.
Part 1: What is Critical Race Theory? Cultural Views of CRT
What is critical race theory? It is the ideology that is behind most of the diversity and inclusivity training in school and the workplace, and these trainings are actually counterproductive because they're leading to more bias and fear. It is a lens through which to see the world (a worldview) – it shapes how you view politics, theology, and education.
Critical theory sees everything as the oppressed versus the oppressor. It is deconstructing those constructs until they get down to fitting into this worldview of the oppressed versus the oppressor.
Why does this matter? What's the big deal if our kids are being taught it in schools? Isn't inclusiveness and diversity training a good thing? What are the dangers it's posing on the church? Are we falling for a false narrative? That's exactly what I have Andrew Rappaport on with me to talk about today. The language in our culture is changing, and we need to be aware of what the truth is behind it all.
Part 2: What are the Dangers Critical Race Theory Poses to the Church?
The church is falling for the social justice gospel. When you add anything to the gospel, you're changing the gospel! Andrew Rappaport is back with me for part 2 of our chat about critical race theory and how it's affecting the church.
TUNE IN: Apple | Spotify | Stitcher | Castbox | Google Podcasts | Amazon
---
---
This post may contain affiliate links. You can read my full disclosure here.
Links Mentioned in Episode
---

Andrew Rappaport
Andrew Rappaport is the preaching pastor of Grace & Truth Bible Church in Bucks County, PA, and founder and executive director of Striving for Eternity Ministries and the Christian Podcast Community. He is the host of several podcasts; Andrew Rappaport's Rapp Report, Andrew Rappaport's Daily Rapp Report, Apologetics Live, and So, You Want to be a Podcaster.
Andrew is the author of the books What Do They Believe, which is a systematic theology of the major western religions, and What Do We Believe, which is a systematic theology of the Christian faith. He also contributed to other books like On the Origins of Kinds and Sharing the Good News with Mormons. Andrew established Equip Conferences (formally Spread the Fire), evangelism training and outreach events.
Andrew was the English preaching pastor of Chinese American Bible Church in Freehold, NJ. He is a Bible teacher, international conference speaker and has written numerous Biblical studies. Andrew also teaches seminars on Hermeneutics, Systematic Theology and much more. Andrew served on the Board of Director of Solutions Pregnancy and Health Center, a pro-life, crisis pregnancy center.
He is very active with America's Keswick, a Christian live-in addiction recovery facility. Andrew grew up in a Jewish home and saved at the age of 16 years old. He holds a Master Degree in Theological Studies, Magna Cum Laude from Calvary Baptist Theological Seminary and a B.S. degree from Monmouth University in Computer Science. He and his bride live in Pennsylvania and have two adult children.
---
Subscribe and Review on apple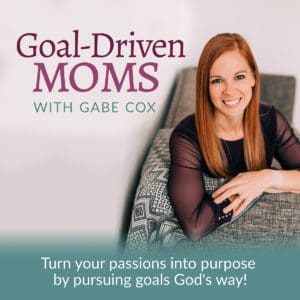 If you're not already subscribed to the Red Hot Mindset Podcast, I encourage you to do that today to ensure you don't miss an episode. Let's step into the fire and come out stronger! Click here to subscribe on iTunes. You can also subscribe on Spotify | Stitcher | Castbox | Google Podcasts | Amazon.
If you resonated with this last episode, please leave a review on iTunes. Reviews help others find my podcast and add it to their own library. Be sure to tune in because I may even feature your review on an upcoming episode! I appreciate you taking the time to share your thoughts.
How to write a review:
Go to "Shows" in the Apple podcast app on your phone
Search for and click on "Goal-Driven Moms"
Scroll to the bottom to "Ratings and Reviews"
Give the podcast 5 stars & select "Write a Review"
Share what your favorite things are about the podcast!
---
Step into the fire and come out stronger!
If you want to stay at the forefront with me, sign up for my newsletter where I bring mindset, goal-setting strategies, and encouragement directly to your inbox, and you will be in the know for future podcast episodes!
---