How to Find the Courage to Embrace New Beginnings
Thursday Tidbits with Faith Blogger Heather Chapman

TUNE IN: Apple | Spotify | Stitcher | Castbox | Google Play | Amazon
* This post may contain affiliate links. You can read my full disclosure here.
Links Mentioned in Episode
Summary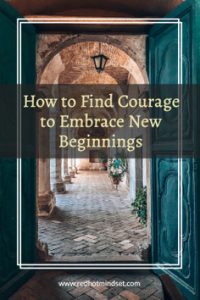 New beginnings are hard because we often feel as if that means we have to let go of the past. For Heather Chapman, new beginnings means living without her precious daughter. The courage to have new experiences, celebrate birthdays and holidays, and go on family vacations without her was more than overwhelming the first two years.
You might not be afraid of new beginnings because of death, but what about a broken relationship, having to let go of a dream, or taking a chance on someone who has hurt you in the past?
We mamas tend to put our children first and make life as happy as we can for them. In doing this, we often hide our own emotional needs and suppress our own fears. This can lead to depression, anxiety, and overall unhappiness. By talking about how to embrace new beginnings, it gives moms permission to look at their fears and face them rather than suppress them.
Heather Chapman
Heather is a homeschooling mom of five who enjoys learning and exploring with her family as well as long walks outside, coffee, and all things chocolate. At Lessons from Home, she writes to encourage others in their faith, parenting, and homeschooling journeys. She also writes about grief, loss, and the healing that comes from Christ.
Thursday Tidbits are short and sweet episodes filled with tangible tips you can implement immediately! My goal with these topics is that you can use them to fuel your growth as you focus on being intentional in every area of your life. Let's get into today's Thursday Tidbit.
Listen to the full episode to go in-depth with these Thursday Tidbits:
Tip 1:

Pray. I know it sounds simple, but God will point you in your new direction and give you the courage to overcome your fears.

Tip 2:

Write it all down. Allow yourself to feel everything that is holding you back. Bring it into the light. Fear loses power when it is exposed.

Tip 3:

Realize that moving on does not mean you have forgotten your past. Our past remains with us. The lessons we've learned, the way situations have affected us, our growth. It's all still there.
Subscribe and Review in iTunes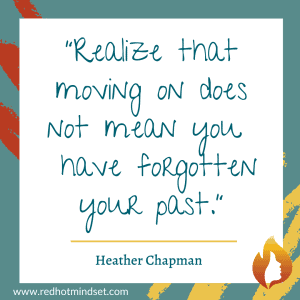 If you're not already subscribed to the Red Hot Mindset Podcast, I encourage you to do that today to ensure you don't miss an episode. Let's step into the fire and come out stronger! Click here to subscribe in iTunes. You can also subscribe on Spotify | Stitcher | Castbox | Google Play | Amazon.
If you resonated with this last episode, please leave a review on iTunes. Reviews help others find my podcast and add it to their own library. Be sure to tune in because I may even feature your review on an upcoming episode! I appreciate you taking the extra time to share your thoughts.
Click here to share your review:
Click "Listen on Apple"
Select "Ratings and Reviews"
Select "Write a Review"
Share what your favorite things are about the podcast!
Step into the fire and come out stronger!
If you want to stay at the forefront with me, sign up for my newsletter where I bring mindset, goal-setting strategies, and encouragement directly to your inbox, and you will be in the know for future podcast episodes!
Transcript (lightly edited)