Throughout our lives, there are times that we may step back and wonder if you are living to the fullest or if we took the right path or if our decision-making is wise. We each will find ourselves at a fork in the road or at a roadblock that becomes an obstacle and sets us in motion for transition. And, it's in these moments that we have a decision to make. Do we take the path less traveled and redefine our lives, or do we succumb to those obstacles and numb ourselves to life?
Lynn Brown has been on a mission to review her lifelong process of decision making and the outcomes of those decisions. She now shares her own discoveries to encourage others to do the same and reimagine the beautiful life they have been given.
Today she is here to share with us her process for moving forward and redefining our life so we can live it to the fullest.
TUNE IN: Apple | Spotify | Stitcher | Castbox | Google Podcasts | Amazon
---
This post may contain affiliate links. You can read my full disclosure here.
Links Mentioned in Episode
---

Lynn Brown
Lynn Brown lives in Kirkland, Washington, with her husband Greg. After two wonderful careers in retail buying and sales, she decided to retire and enjoy every moment of her young family's life. Once their children left the nest, Lynn continued with her love of gardening, and the joy of being the caretaker of their cottage. Lynn also pursued her dream of writing and penned her first novel, Three. She was a contributing author in The Lemonade Stand – from Sour to Sweet with her short story A Mom's Christmas. Lynn is currently finishing her second book and looking forward to fun projects ahead.
---
Subscribe and Review on apple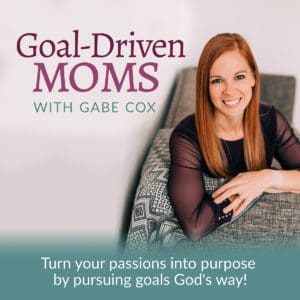 If you're not already subscribed to the Red Hot Mindset Podcast, I encourage you to do that today to ensure you don't miss an episode. Let's step into the fire and come out stronger! Click here to subscribe on iTunes. You can also subscribe on Spotify | Stitcher | Castbox | Google Podcasts | Amazon.
If you resonated with this last episode, please leave a review on iTunes. Reviews help others find my podcast and add it to their own library. Be sure to tune in because I may even feature your review on an upcoming episode! I appreciate you taking the time to share your thoughts.
How to write a review:
Go to "Shows" in the Apple podcast app on your phone
Search for and click on "Goal-Driven Moms"
Scroll to the bottom to "Ratings and Reviews"
Give the podcast 5 stars & select "Write a Review"
Share what your favorite things are about the podcast!
---
Step into the fire and come out stronger!
If you want to stay at the forefront with me, sign up for my newsletter where I bring mindset, goal-setting strategies, and encouragement directly to your inbox, and you will be in the know for future podcast episodes!
---